I carefully produce portraits from your own photos. If you have one special photo showing the subject as you would like them to look in the portrait, then great! However, it is often a good idea to send several photos, which show detail in the eyes and variation in the colour of the subject, along with the pose you would like. Portraits with more than one animal can also be produced from several photos. I will explore several composition ideas and consult with you throughout.
In some circumstances I may be able to visit to take the photos myself (depending on your location). This can often help with bringing out your pet's personality in the portrait.
I am happy to receive digital photos via email or hard copies in person or through the post, with a few words describing the subjects character.
All hard copy photographs will be returned with your finished portrait.
On booking your portrait I will request a non refundable deposit this is usually 25% of the portrait value. The balance is then paid on completion.
Things to consider
When choosing photos, really consider the subjects personality. For example; if your dog spends most of the day on his back sunbathing why not let the portrait show his true chilled out nature? Equally an action shot is a great form of expression.
Lighting is always important - photos taken in natural daylight are often best. There are always exceptions for some dramatic lighting!
If you have a suggestion for a background, bridle work or favourite toys please do not hesitate to let me know.
Time scales - Please consider timescales when booking in a portrait. I generally have a lead time of 2-3 months and I have found myself to be booked up for Christmas by the end of the summer! I do try to hold back a few slots and can occasionally squeeze extra in so it's always worth getting in touch to check. If you have a deadline let me know
Gifts
A portrait commission also makes a wonderful and very personal gift. You are welcome to book a commission slot with a deposit and or and I can provide a personalised gift certificate for the recipient to then choose which photographs I work from and follow the journey of their portrait being produced. - Please get in touch for further details.
Pricing 2016/2017
Neutral mounts are complimentary to help protect your portrait.
Postage and packaging charges are additional.
Portraits will always be posted via an insured courier service.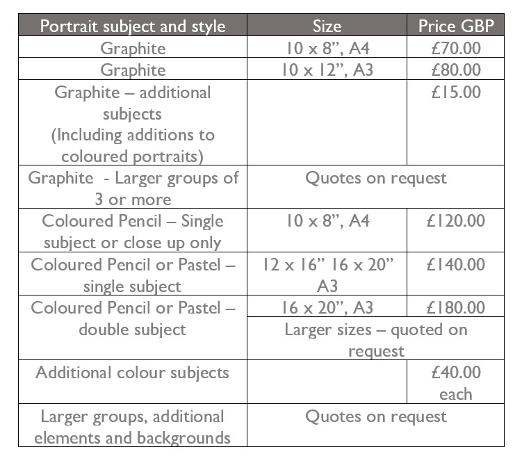 Booking your commission
If you would like to discuss a portrait commission further please do not hesitate to get in touch via Email in the first instance.
lisa.s.desouza@gmail.com
When emailing please remember to include your contact details and if you have any photographs you think you might like to use.
I really look forward to hearing from you.